10 interview tips that will help you get hired!
You've finalized your CV, started applying for digital apprenticeship vacancies, now its time to perfect your interview technique. Good preparation will not only help alleviate some of the stress but will help you to walk in feeling confident and ready to impress your interviewer! We've compiled a list of our all time best interview tips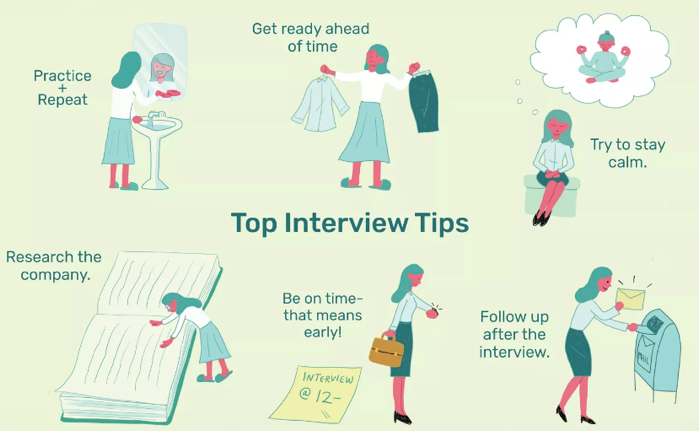 1. Practice, practice, practice
Review the typical job interview questions employers ask and practice your answers. Strong answers are those that are specific but concise, using solid examples that back up your CV. Your answers should also highlight the skills that are key to the employer and relevant to the role.
2. Research the Company, and Show What You Know
Do your homework and research the employer and the industry, so you're ready for the interview question, "What do you know about this company?". If this question is not asked, you should try to demonstrate what you know about the company on your own.
3. Prepare some smart questions to ask the interviewer
Have at least one or two questions prepared to ask the employer. This will demonstrate your interest in the organization and is a great way to show you're thinking seriously about what it would be like to work there.
4. Demonstrate hands-on experience
Whenever appropriate, use your interview as an opportunity to highlight any relevant hands-on experience. Include specific examples of how you've solved a challenge or problem in the past or be as specific as you can with exact figures, statistics and improvements from previous achievements.
5. Have an online presence
Employers are likely to do their research on you before you attend the interview. Your own digital brand is very important, especially as you are applying for a digital role. Take time to update your LinkedIn profile – this can go a long way in making a great first digital impression. If you can't promote yourself online, how can you expect your interviewer to believe you could promote their business?
6. Demonstrate Your Passion
Showing that you have a genuine passion for the industry is very important. The great thing about digital marketing and content production is that you can cultivate your own portfolio without even having worked in the industry. For example, you may decide to set up your own blog which is a great way to demonstrate your copywriting and SEO skills, or create your own website to show your creative and design skills. This will give you the perfect chance to showcase your skills and passion.
7. It's okay to not know everything about the digital space
The digital space is incredibly varied. If you are unsure about one area, turn this into an advantage.  For instance, if SEO isn't your strongest area but it's part of the job description, say something along the lines of, "Although my previous roles didn't involve much SEO, I've taken it upon myself to remain up to date via podcasts and SEO blogs." This shows your honesty and your initiative to learn more.
8. First impressions count
Dress smart and appropriate for the job you want, its always better to over-dress. Make sure you arrive 10–15 minutes early, it's a good idea to map out your route prior to the interview to ensure you know where it is. Bring along a portfolio of work, such as screenshots of projects, pages, blogs to talk about during the interview.
9. Stay calm, be authentic, concise and upbeat
Respond truthfully to the questions you're asked and keep your answers short and focused to avoid rambling. As you answer questions, maintain eye contact with the interviewer and listen to the entire question. Take your time to answer, and try to remain as relaxed as possible.
10. Follow-Up After the Interview
Always follow up with a thank-you reiterating your interest in the position. This is a good time to include any details you may have forgotten to mention during your interview.
If you apply our top ten interview tips, set yourself plenty of preparation time and remain optimistic and motivated you will certainly land your dream digital apprenticeship. Good luck!