We provide companies with the skills they need to thrive in the digital age
Companies that have chosen to work with
Creative Process Digital
Keep your business ahead of the game with a Creative Process Digital Apprenticeship
£12,000 worth of diploma accredited digital skills training per employee
Build your digital capability; Create a digital mindset; Invest in your employee's professional development at no financial cost to you
92% of Creative Process Apprentices continue with their employer when their apprenticeship ends.
Creative Process Digital specialise in a range of training programmes across Digital, Creative, Tech and Operational  Support. These are tailored to specific job roles within your business to enhance digital capabilities, assist growth and increase productivity.
Digital Accelerator Level 2

Digital Marketing Level 3

Junior Content Producer Level 3

Video Accelerator Level 2

Digital Skills Taster Advanced
Complimentary recruitment service
At Creative Process Digital, we know how time-consuming and expensive it can be to recruit new, motivated staff to your business. This is why we offer a complimentary recruitment service.
We will advertise your vacancy, screen applicants and pre-interview potential candidates to ensure you only interview the most appropriate people for your specific role – all free of charge – saving you time and money. 92% of our apprentices continue with their employer post apprenticeship.
We will…


Advertise your vacancies

We will…


Screen Applicants

We will…


Pre-interview Candidates
The Apprenticeship Levy has provided large organisations, with a wage bill of £3M or more, the opportunity to recruit new, and up-skill existing, staff members with government funded training programmes. 
We have a proven track record in creating and rolling out new apprenticeship programmes for large companies and corporations that understand the critical importance of investing in the digital and tech skills of their workforce.  
Save £1000s with employer NICs rebate
Did you know that for any apprentice that you employ up to the age of 25 you will not have to pay employer National Insurance Contributions. Depending on the salary of your apprentice, this could amount to a significant saving. Changing your employer contribution category for your apprentices will save your business money.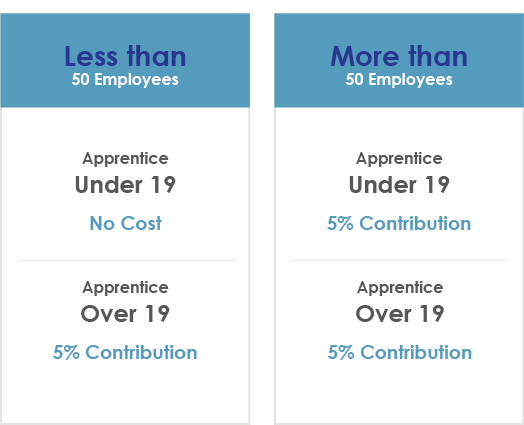 The cost of hiring an Apprentice
If your Apprentice is aged under 19 and your business has less than 50 employees, there will be no cost for the training. If they are over 19 and/or your business has over 50 employees then you will contribute 5% towards the cost of the training. Either way your employee will benefit from £12,000 worth of digital skills training to ensure that they become a real asset to your business. If relevant we will help you to secure any additional Government grant support that may be available.  
Contact us today with your questions about Apprenticeship training and how Creative Process Digital can help you. Our client services team can explain the process, outline your options and fast track your next hire with our existing pool of talent if you're ready to go.
We provide a full range of Apprenticeships in Digital, Creative, Tech, Marketing, Business Support and much more. We offer different levels of Apprenticeships making Creative Process Digital the best place to start and progress your career. See our full range of programmes here.
We are based in central Brighton, 10 minutes from Brighton train station at Telecom House. We have state of the art digital training facilities, mac suites and the latest in software including full Adobe Creative Cloud and video production green screen and film equipment. 
'We've hired a production apprentice – the recruitment support has been absolutely amazing – the process was the least painful recruitment drive I have participated in for a while!'
Warner Bros
'Having spoken with industry colleagues we found that other businesses are already benefiting from hiring apprentices to fuel their teams. In our industry its very hard to hire entry level team members as the learning curve is very steep, hiring apprentices has solved the problem of expectation management and has provided us with young, eager additions to the team'
i2W
"Recruitment is one of the biggest challenges our industry is facing. The industry moves very quickly, and a lot of new ideas come from young people. We wanted to train those young people in keeping with our company values and philosophy. Our Creative Process apprenticeships have been a great return on investment"
Gene
BT Sport and the wider industry needs young creative and tech talent so we stay relevant, evolve with, and as a part of, our audience. Local, digital savvy young people and employers have an important role to play in ensuring that we are developing connected and inclusive communities and enabling local people to be a part of the success story, BT Sport is supporting this by employing Digital Apprentices and bringing new talent into our business.'
BT Sport
"Emma has been our apprentice for two months now, and the difference she has made to us in that time is spectacular. She has helped us create content for our websites, promoted our organisation on social media channels and administrate wider branding projects. She's been a fantastic support and I can't wait to see what else she achieves over the next 16 months."
Brighton Dome
'The service that you provide is essential in the city, and we must ensure that our employers and residents of all ages have access to a digital offer which develops the knowledge and skills needed to ensure personal and business growth'
Cllr. John Allcock
Deputy Leader of the Council